Savour the flavours of fresh herbs in your cooking and brighten up your home with these beautiful metal pots. Perfect for growing a trio of tasty herbs on your windowsill. Why not grow a mix of different varieties: basil for pizzas, thyme for meats and some coriander for curries.... Delightfully delicious.
Dimensions
Tray: L28.5 x W8cm
Pots: Dia. 9cm
The Strawberry Thief Pattern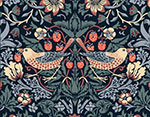 This is Morris's most famous pattern, designed in 1883, and is based on the thrushes that he observed stealing strawberries from his kitchen garden at Kelmscott Manor. It was made using a complex printing technique known as indigo discharge, and was an expensive luxury fabric when first produced.
The Honeysuckle Pattern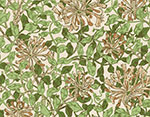 Honeysuckle was designed by May Morris in 1883, William's youngest daughter. The design is a realistic arrangement of rambling flowers and entwining leaves. May had a talent for textiles and managed the embroidery department for her father.
This truly iconic British design has been perfected by modern techniques to provide current generations with a true-to-original pattern on a variety of materials not previously possible. Offering beauty, style and affordability – all combined with impeccable historical credentials.
Herb Pots - William Morris
Product Code: B6288 - B6290
In Stock