This kneeler certainly lives up to his ideal, being beautifully designed and well-crafted. A much-loved and iconic pattern perfect for extra comfort when weeding, digging, sowing, or just sitting enjoying the beauty of the outdoors.
Extra-large and extra-thick design with all over printed pattern design
Thick foam padding for a more comfortable support whilst kneeling or sitting
2 practical handles for carrying around and for hanging or storing
Size: L56 x W37 x D15cm
The Strawberry Thief Pattern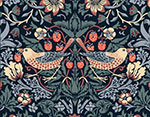 This is Morris's most famous pattern, designed in 1883, and is based on the thrushes that he observed stealing strawberries from his kitchen garden at Kelmscott Manor. It was made using a complex printing technique known as indigo discharge, and was an expensive luxury fabric when first produced.
The Honeysuckle Pattern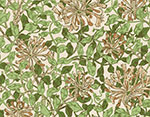 Honeysuckle was designed by May Morris in 1883, William's youngest daughter. The design is a realistic arrangement of rambling flowers and entwining leaves. May had a talent for textiles and managed the embroidery department for her father.
This truly iconic British design has been perfected by modern techniques to provide current generations with a true-to-original pattern on a variety of materials not previously possible. Offering beauty, style and affordability – all combined with impeccable historical credentials.
Garden Kneeler Giant Cushion - William Morris
Product Code: B6333 - B6334
In Stock