Dark navy rubber wellington boots with the iconic Strawberry Thief pattern inset in a unique soft, fabric-feel finish. Styling details include decorative metal buckle and William Morris Exclusively by Briers script logo on the heel, plus the diamond-shaped trim not only strengthens the boots but also helps ensure a water-tight surface.
Lining: Cotton, Sole: Rubber, Upper: Rubber, Other materials
All our rubber boots are handcrafted.
Rubber is an almost completely natural material. It has inbuilt flexibility that moves with the wearer, being naturally more comfortable.
Wipe clean with a damp cloth
Product features
High quality, natural rubber boots
Full length / knee-high design
Comfortable and stylish
Fabric-feel pattern finish
Removable cushioned insole
Decorative side buckle
Thick soles for grip
Soft cotton lining
Waterproof
Sizes available 4/37 - 8/42
Height 33cm
Max. internal circumference 40cm
The Strawberry Thief Pattern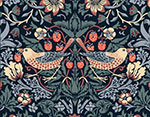 This is Morris's most famous pattern, designed in 1883, and is based on the thrushes that he observed stealing strawberries from his kitchen garden at Kelmscott Manor. It was made using a complex printing technique known as indigo discharge, and was an expensive luxury fabric when first produced.
Also available in the Honeysuckle Pattern
Fabric Feel Rubber Wellington Boots - Strawberry Thief - William Morris
Product Code: B6335/B6336/B6337/B6338/B6339
In Stock
You may also be interested in...