Light green rubber wellington boots with the beautiful Honeysuckle pattern inset in a unique soft, fabric-feel finish. Styling details include decorative metal buckle and William Morris Exclusively by Briers script logo on the heel, plus the diamond-shaped trim not only strengthens the boots but also helps ensure a water-tight surface.
Lining: Cotton, Sole: Rubber, Upper: Rubber, Other materials
All our rubber boots are handcrafted.
Rubber is an almost completely natural material. It has inbuilt flexibility that moves with the wearer, being naturally more comfortable.
Wipe clean with a damp cloth
Product features
High quality, natural rubber boots
Full length / knee-high design
Comfortable and stylish
Fabric-feel pattern finish
Removable cushioned insole
Decorative side buckle
Thick soles for grip
Soft cotton lining
Waterproof
Sizes available 4/37 - 8/42
Height 33cm
Max. internal circumference 40cm
The Honeysuckle Pattern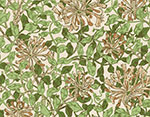 Honeysuckle was designed by May Morris in 1883, William's youngest daughter. The design is a realistic arrangement of rambling flowers and entwining leaves. May had a talent for textiles and managed the embroidery department for her father.
Also available in the Strawberry Thief Pattern
Fabric Feel Rubber Wellington Boots - Honeysuckle - William Morris
Product Code: B6340/B6341/B6342/B6343/B6344
In Stock
You may also be interested in...